This afternoon, the Yankees continued their fine play of recent days as they won their 5th in a row to move to .500, and get out of the AL East basement.
Best of all, they did it by coming back against the Mariners with a 4 run 8th inning, capped by Molina's RBI double. The team only managed to collect 8 hits, but half were doubles. The Yankees also were aggressive on the basepaths, stealing 2 bags off Mariners starter Washburn, who had not allowed a stolen base in over 100 innings.
It seems like they have been playing with a fire since A-Rod is back. The Yanks are done with the Ms this year, winning all 6 games.
Wang struggled with his control, and didn't figure in the decision. He was tagged with all 5 runs in his 6.1 innings of work.
Ramirez picked up the win with 1.2 innings of shutout relief, and Mo racked up save 12 with a 2 strikeout ninth.
Today, Rasner starts against the Orioles 1:35 on YES.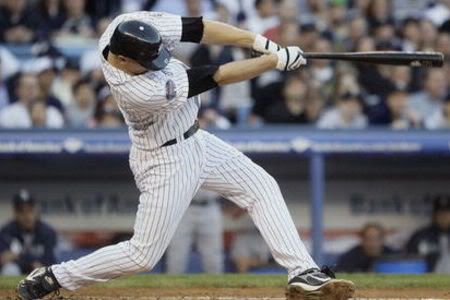 Go Yankees