With all the current attention being paid to the Yankees as this is the last year at the storied ballpark, I wanted to do my list of all-time Yankees players.
I'll do a couple positions a day for the next few days.
I'm going to limit it to just players I have seen. While I attended my first game in 1961, I really hardly remember anything except seeing Whitey Ford on the mound against the Red Sox, and that Maris or Mantle homered. Yankees won 13-2. But everything else is just a blur.
While, technically, I did see Mantle and some of the players from the glory days of the 1950's play, I hardly could say I have any true memory of them.
So, for all practical purposes, this list would just use players from the mid-1960's up until today. Players I saw and appreciated.
I'll start at catcher. The Yankees have been blessed with several great catchers in their history. Dickey and Berra, are among the best ever, both enshrined in Cooperstown. While Jorge Posada has been one of the best catchers in the AL since he broke in, and he definately fits in among some of the greatest Yankee catchers to ever put on the "Tools of Ignorance," he's not my guy. Add to that the simple fact I'm a huge fan, and he would be a shoe-in. But sorry. My guy is, was, and always will be the Captain, Thurman Munson. His .292 career average and his 113 dingers pale in comparison to Posada, but he was the heart of the Yankees, and led them to 2 World Championships (1977-78,) and an AL Championship (1976.) Munson was great at throwing out would be outbase-stealers. He didn't have the greatest arm, but his release made up for that. During his career, Carlton Fisk (HOF) and he were considered the best at their positions. Thurman deserves to be alongside Fisk in the Hall.
I can remember when rumors circulated that the Yankees were looking to make a trade for Johnny Bench (generally considered to be the best catcher ever.) When reporters asked Thurman what he thought of the deal, he said, "That's great, What position will he be playing?"
Munson was that cocky guy winning teams need.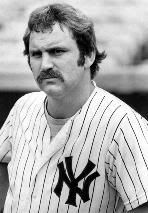 Next is First Base. This is a little easier to call. For some reason, the Yankees, throughout history, have not been blessed with many great first sackers. Sure, Gehrig handled the job for a while, but through the 50's and 60's and much of the 70's the position had no really great players. Moose Skowron and Danny Cater were nice ballplayers, but no one ever mentions Hall of Fame and their names in the same sentence. Chris Chambliss? Again, a very good player, known for a clutch HR against KC, but just not my all-time guy.
Don Mattingly, aka Donnie Baseball, is my choice. OK, not exactly a stretch.
While his career numbers are respectable, injuries seriously hurt his chance for Cooperstown. Over 400 doubles, coupled with 200+ homers and a .307 average may have put him in the running. But he lost at least 3-4 seasons due to his relatively early retirement (age 34) and who knows how much more he would have accomplished if he hadn't missed at least 30 games in parts of 4 seasons in his prime. Keep in mind that he had some trouble even when he played, due to back problems. We could almost double all those numbers if he remained healthy.
And he was known as a great fielder, saving the infielders many errors over the years.
Two choices, both captains, get the nod.
More to come.
Go Yankees