I predicted yesterday that it was going to be a low scoring game, and Pettitte did his part, holding the Mariners to just 2 runs in 6 innings while striking out a season high 9 batters. The bullpen continued to do a fine job, shutting out the Ms the rest of the way.
The explosive Yankees offense did just that, putting up a baker's dozen 13 runs
based on 13 hits, including a couple doubles, and my personal favorite weapon--the 3- run homer. Shelley Duncan provided all the offense Pettitte and the Yankees would need with his big fly in the second. The team put the game away in the 5th with 8 runs to chase Bedard.
This is my type of game. While I enjoy a tight 2-1 game as much as any purist, my favorite game is as described by the late Jacob Ruppert; the Yankees score 10 runs in the first and then slowly pull away.
Every starter reached base, and every one except Jeter reached via a base knock.
And the good Yankee news keeps on coming. Giambi, of the traveling gold lame thong, continues his hot hitting with a single, double and a pair of walks to raise his average to .217. Cano continues his rise to respectability with another pair of hits and 3 RBI. Just a few days ago, half the team was below the Mendoza Line, but as of today, they are starting to show the signs that they are one of the powerhouses in the AL.
Mussina starts today at 1:05 on YES. Moose will be going for his team high 7th win.
In other news, Posada is due back in 3 weeks or so. And Bobby Murcer's autobiography,
Yankee for Life
, is out. Old time fans remember the day he was traded for Barry Bonds with sadness. He came back after a few years, and has been a member of the family ever since.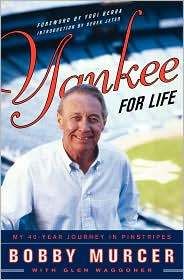 Go Yankees