AAs predicted yesterday Igawa was going to be terrible. He lived up (or wold that be down) to the advance billing. He surrendured 11 hits in 3 innings of work, and wasn't helped by less than spectacular fielding. Betemit was terrible at 3rd, making them miss A-Rod as much for his great glove work as for his MVP bat.
The only good news, and it's hard to find any good new when the team is below .500 nearly a quarter of the way into the season, is that Cano and Giambi seem to be coming out of their protraced slumps. That, and A-Rod's workout went well yesterday. He is scheduled to come back with the big club on Thursday against the Rays. Posada has been working out, but is believed to be about a month away. Karstens is also due to make a rehab appearance or two, and may be back with the squad very soon.
Today, Rasner takes the mound at Comerica Park at 3:40 on Fox 5 in NY against the talented, but inconsistent, Bonderman.
Despite the Yankees mediocre play, they are still within hailing distance of the league leading Red Sox.
Just a few more days until: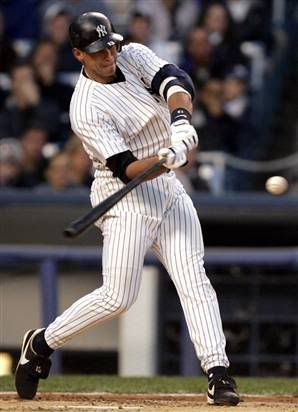 Go Yankees