Happy Father's Day to me!
It's a major sports watching day.
Mets game starts at 1:00, Yankees start at 2:00, and Tiger Woods seeks his 14th major at 3:00 at Torrey Pines in California.
I watched Tiger play the back 9 and come charging back, not just to get in contention, but to take the lead. And everyone knows Tiger is nearly unbeatable when he is in the lead going into the final day.
His knee is in bad shape. He grimaced with nearly every hard shot. But again, those back 9. It was described as a lifetime highlight reel for most golfers.
An eagle on the 13th, and another on the 18th put him in the lead. For good measure, he made a miraculous birdie on the 17th. That chip shot in the 17th was so phenomenal. I watched Tiger's face, because he thought he screwed it up, but the ball one-hopped right into the cup. It appeared to hit the stick. Words just can't describe it.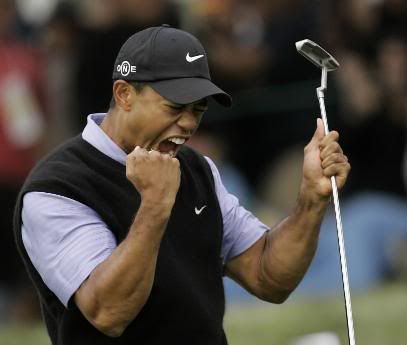 Meanwhile, the Yankees have been playing well. They are finally 3 games over .500, and looking good. Mussina, who was all but written off in spring training is tied for the league lead in victories with 10. This is his 17th straight year with double digit wins. He will most likely make the All-Star team. Don't forget to vote for position players in the online poll, BTW.
Go Yankees