A-Rod, Giambi and Posada all belted homers in yesterday's battle with the Royals. This is the team I expected, one with power, and the ability to put up a lot of runs in a hurry. So, I'm pretty happy about that. The staff is ailing, though. While it may have been Andy Pettitte's worst game in years, if the pen wasn't in such disarray, he would have been gone long before the Guillen grand slam.
Today, Joba takes the hill in his second start. I'm not sure how many pitches he is scheduled to throw, but it is pretty damned stupid to announce it before the game like they did last time.
Melky Cabrera is becoming one of my favorites. He seems to get lost in the shuffle, and yet, his upside is so tremendous. It's hard to believe he is only 23 and this is only his 3rd year as a full time player. His predecessor in center, Bernie Williams, was sent to the minors at age 23.
I know Melky's name was bandied about over the winter in trade talks, but I firmly believe he will be, one day, mentioned in the same way other great former Yankee players are-- joining Mickey, Joe D., Bernie, and Bobby Murcer as legendary players who have patrolled centerfield in the Bronx.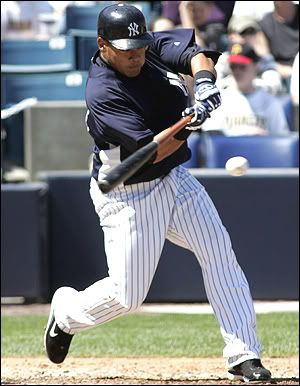 Go Yankees