Andy Pettitte just pitched one bad inning, and that was enough to tag him with his 5th loss of the season. His overall line was pretty good, 3 runs in 6 innings of work, along with 7 strikeouts, including 5 in the first 2 innings.
But, oh, that 4th inning. Andy tossed 41 pitches, and even walked in a run with the bases loaded, on the 7th pitch of the at bat. It was followed by a booming 40 foot blast to left. OK, it resembled more closely a swinging bunt, but it got the runner in.
Pettitte held the Mets scoreless for the next 2 innings, but then Farnsworth got rocked in the 7th. He gave up back to back HRs that put the game away. Joba got tagged in the 9th for one more run, but with the prospect of Wagner coming in to close the game, it didn't matter.
It's hard to find a turning point in the game, other than the 4th inning, but it seems like the momentum shifted in the 3rd. Damon was thrown out at the plate on an Abreu double. It was a close play as the Mets catcher did a great job of blocking the dish. Replays showed the ump got it right, too.

I hate when that happens.
The offense did show some signs of life against a very good pitcher, with a couple doubles, and 3 HRs.
Tonight, Giradi hands the ball to his stopper, Wang (6-1) on ESPN @ 8:05.
In A-Rod Watch news, he made a rehab start yesterday, and it was all good news. He played 5 innings in the field and did well. At the plate he managed a HR in 4 plate appearances against a Rays pitcher, David Price, who was throwing in the 95-97 MPH range. Price is also rehabbing, and is considered one of the top minor league prospects for the pitching rich Rays. That's as hard to type as division leading Rays.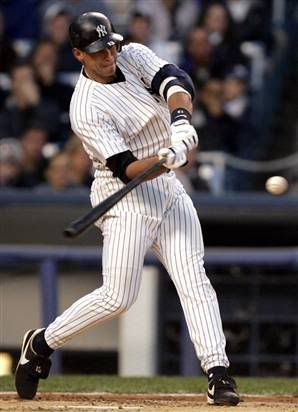 See you Tuesday
Go Yankees