It wasn't pretty, but I'll take it. 2-1 against the division leading (I'll never get used to saying that) Rays wasn't exactly a huge victory, but it's a start. Mussina was great as he picked up his 6th win as he pitched 6.1 innings of one run ball. The bullpen then nailed the door shut. Joba struck out 3 in his one inning of work, and Mo picked up his 11th save.
The offense, as has become their habit lately, was awful.
5 singles (4 by Cano who finally got his average over .200) along with a couple doubles (Matsui, Abreu) really is sad.
Tonight, Ian Kennedy takes the ball against Kazmir at 4:10 at Trop Field. Only good thing I can find about this is at least the game will be over early.
Looking around the league, Manny (the only Red Sox player, ever that I don't hate--yeah, sure, Sean Casey I like, but he's only a Sox temporarily. Plus he's a Jersey guy) Ramirez made a play for the ages last night. It is protected by MLB copyright, so I can't put it here, but I'm sure it is available at MLB.com or the RedSox.com. It can still be found on some video (Google Manny Ramirez catch) but it's being removed almost as quickly as it is posted.
It has been on ESPN all morning. Basically, Manny made a running catch, and to stop, he had to take a step up the wall at Camden Yards. He then high 5'd a fan, came down, and doubled the runner off first.
Here's an AP still as he hi-5's the fan.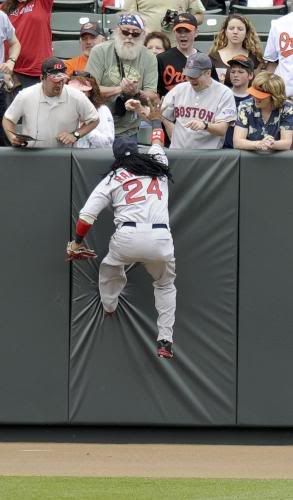 Go Yankees